School-to-Farm Days
---
What are School-to-Farm Days?
The event brings together 4th grade students from different elementary schools throughout the county for a day of learning about the importance of agriculture. Farmers and other professionals are on hand to present mini-lessons and demonstrations on topics such as beekeeping, sheep raising, wool carding and spinning, dairy cows, oxen, maple sugaring, vegetable production, soil ecology, chickens and more. Students visit the stations, meet the experts, see the animals and experience a taste of farm life.
School to Farm Lessons
Click here for a variety of lessons, videos and activities to enhance the learning opportunities of the School to Farm field trips. Find topics such as dairy, fiber, poultry, maple and more, all targeted towards fourth grade students.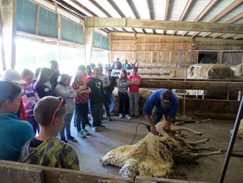 2023 Information
Merrimack County
Thursday, May 11, 2023
Carter Hill Orchard in Concord
Flyer | FULL – registration closed
Sullivan County
Monday, May 22, 2023
Sullivan County Complex in Unity
Flyer | Registration
Grafton & Coos Counties
Wednesday, May 24, 2023
The Rocks Estate in Bethlehem
Flyer | FULL – registration closed
Carroll County
Wednesday, May 31, 2023
Remick Country Doctor Farm in Tamworth
Flyer | Registration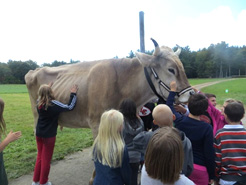 Rockingham & Strafford Counties
June 6-8, 2023
UNH Equine Facilities in Durham
Flyer | FULL – registration closed
Belknap County
Tuesday, September 19, 2023
Ramblin' Vewe Farm in Gilford Flyer