Agricultural Literacy Curriculum Matrix
---
Companion Resource
Print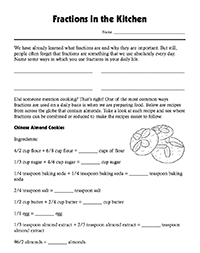 Fun with Almond Math
In this activity, students will multiply, divide, combine and reduce fractions using real world applications working with almond grower word problems and recipes.
Time to Complete
50 minutes plus homework assignment
Materials
An Almond Story activity book, pages 7, 10, 16 and 17: Responsible Production, Hullsplit to Harvest, and Almond Forms and Food.
Almond samples: whole, sliced, diced, flour, almond butter, milk, oil
Fractions in the Kitchen worksheet
Procedures
Background Information:
Different customers prefer their almonds different ways. California Almonds are shipped to more than 90 countries, so it's no surprise that people use almonds in a variety of ways. It is very common to go to the grocery store and see almonds in many different forms and many different products.
Sometimes almonds are left alone, which are called whole, natural almonds. Other times, the skin is removed, which makes the almond appear white. We call this method of removing the skin blanching. Almonds that are sliced are often used for soups, salads and pastries. Chopped almonds are often added to cookies, brownies or cereals. Using the right form of almond for the right application is very important, but it's just as important we use the right amount.
Activity Procedures:
Have students open their Almond Story activity book to page 7, Responsible Production. Discuss vocabulary: acre, bee box, queen bee. Read and work through the problems as a class.
Turn to page 10, Hullsplit to Harvest. Read as a class and have students work on problems independently. Review as a class.
Continue in the activity book using pages 16-17, Almond Forms and Food. Discuss vocabulary: whole, natural, blanched, sliced, slivered, chopped, application. Show and discuss examples of different almond types and when they would be used.
For homework, hand out the attached Fractions in the Kitchen worksheet. Brainstorm ways people use fractions. Have students add ideas to their worksheet and complete on their own.
File, Map, or Graphic
Author
Rebecca Bailey, Mary Pat Jones, Jenny Nicolau, and DeAnn Tenhunfeld
Organization
California Foundation for Agriculture in the Classroom
Sources
Original Development Team: Laceyanne Sullivan Chojnacki and Jennifer Dickey
Executive Director: Judy Culbertson
Layout and Design: Nina Danner, Lyn Hyatt, and Jennifer Ray
The original concept for California Almonds: An Almond Story was developed by participants in the Almond Board of California's Almond Leadership Program. The lesson plans were further developed by California Foundation for Agriculture in the Classroom with support from the Almond Board of California.
Lessons Associated with this Resource